Conveyors with additional functions
As a single module or a whole production line, Cermac conveyor belts securely transport your packaged or unpackaged products. Driven by the search for optimal solutions, our engineers and technicians work diligently on the adaptation of the different types of belt conveyors.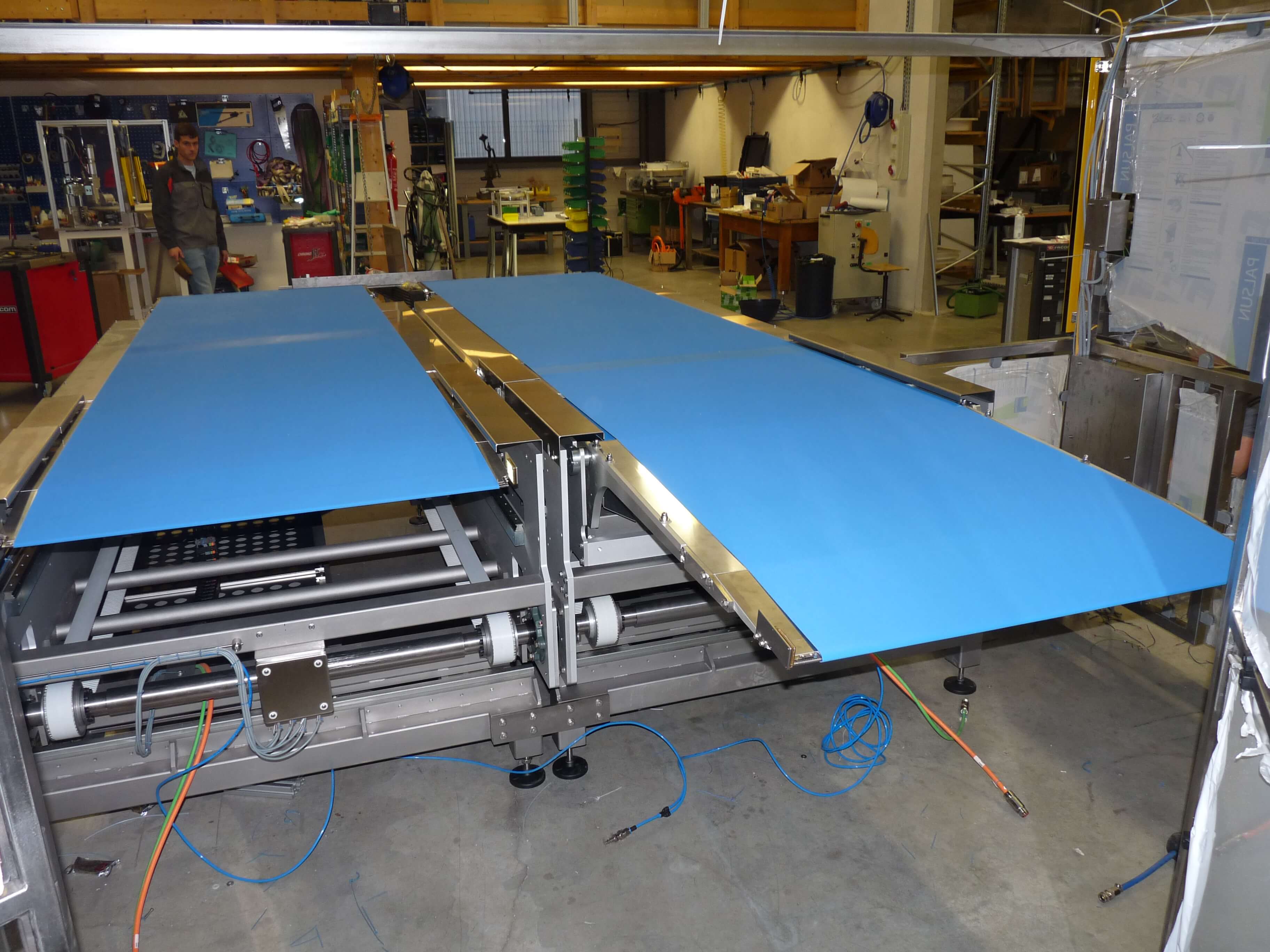 1- Retracting tail conveyor
A retracting tail conveyor is a spin-off of the conventional, hygienic belt conveyor. Its novelty is being able to place products into an existing flow automatically or to remove non-compliant products, with the possibility of a thin lip end that can carry out a precise placement along a line. Three main retraction types cover almost all of the needs in managing production flow.
pneumatic retraction with standard 80 mm to 200 mm movement along a minimum 1600 mm conveyor length
servo gearbox retraction with 100 mm to 600 mm controlled movement along a minimum 2500 mm conveyor length
servo gearbox retraction with a thin, articulated, retractable lip to delicately place products with 100 mm to 600 mm controlled movement for a minimum 2500 mm conveyor width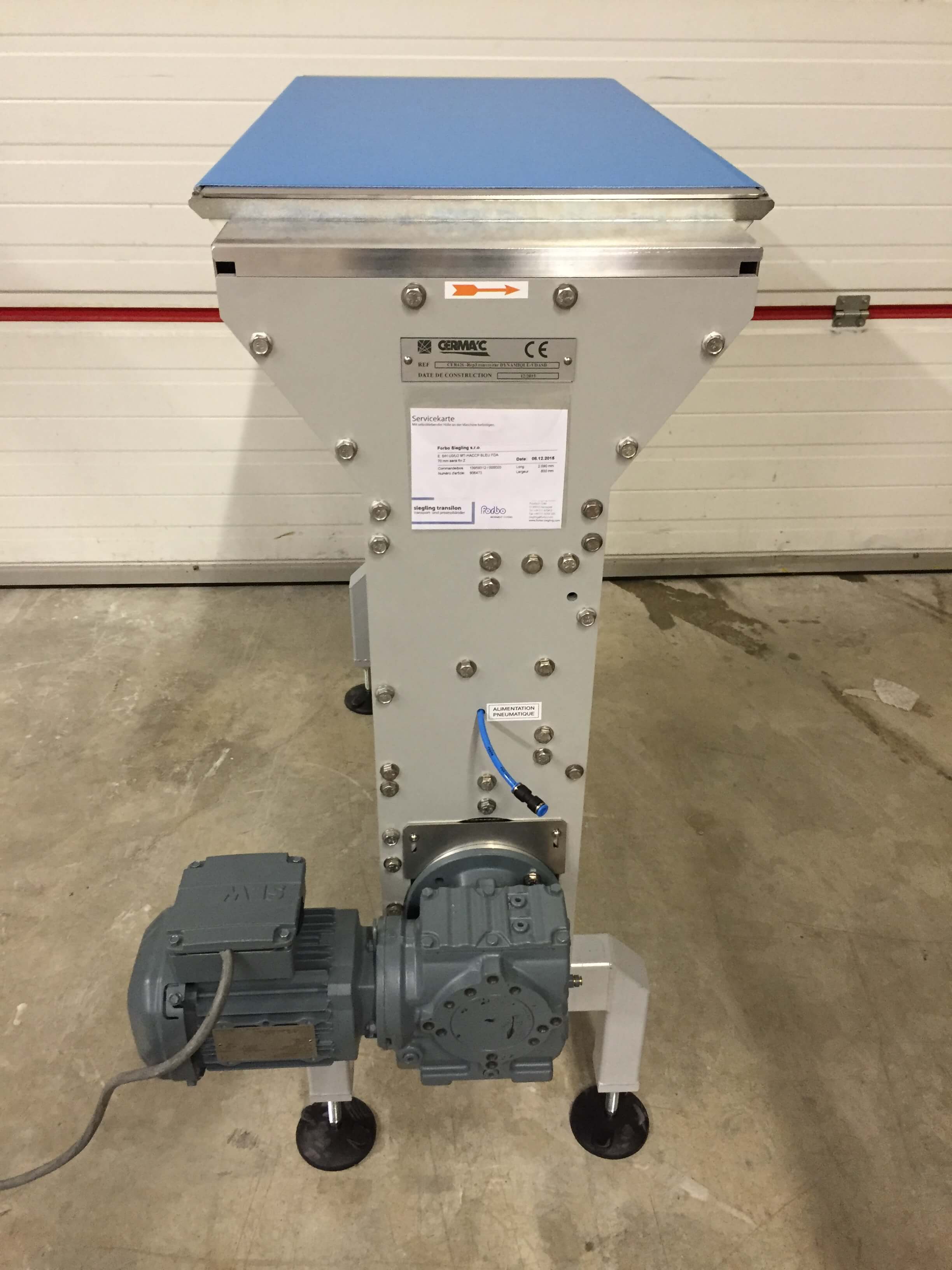 2- Dynamic conveyor
With a short 150 mm to 300 mm design, this dynamic conveyor aligns or spaces products along a continuous-flow production line. It uses 500 mm to 1600 mm wide belts. The main job of this type of conveyor is to square products, and the interfaced management of production line speeds upstream and downstream.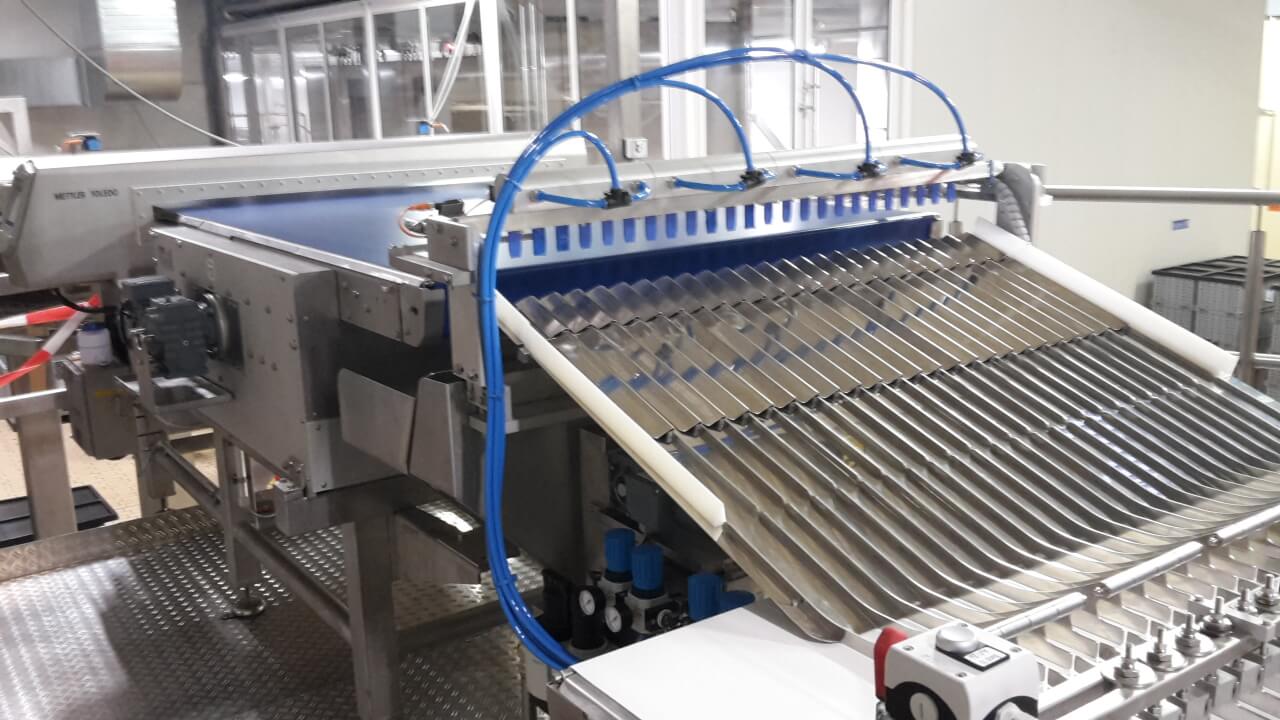 3- MPD conveyor
The metal particle detector conveyor (MPD) is specially designed to detect and remove metal particles in the products that are moving along the belt. When a metal particle is detected, several solutions can be activated: operator signal mechanical removal belt retraction.
Optional:
stainless steel model, servocontrol, external incremental sensor, pneumatic belt tensioner, belt scraper, recuperation bin, etc.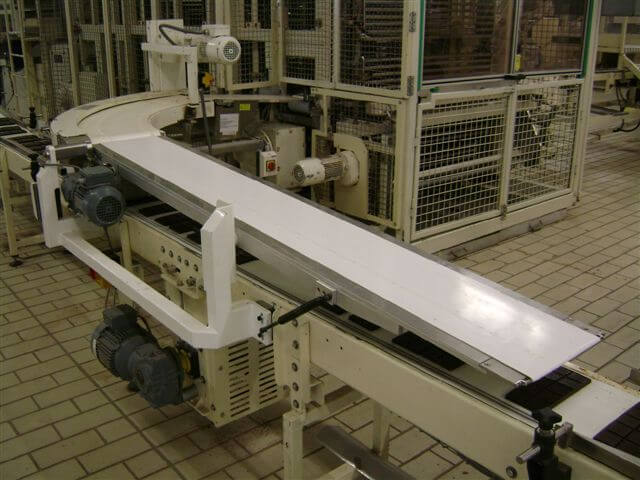 4- FLAP conveyor
Our FLAP conveyor allows elevated diverting of products through manual or automated pneumatic or electrical action.
A wide variety of options:
external incremental sensor, pneumatic belt tensioner, belt scraper, recuperation bin for scraps, etc. The belt can be changed quickly and is easy to clean.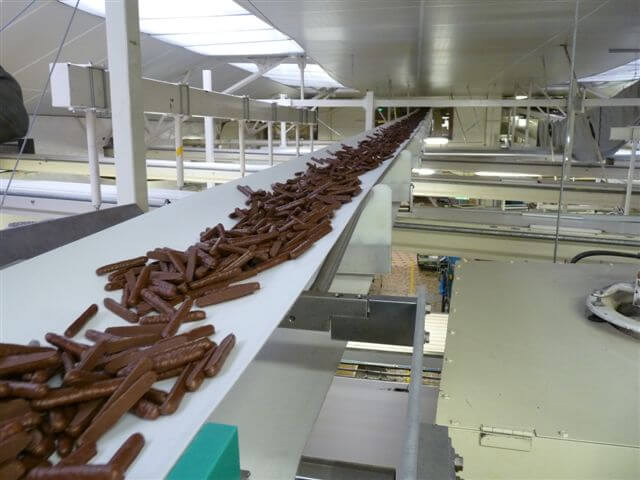 5- Trough conveyor
This trough conveyor provides efficient transport of bulk products while respecting standards for hygiene. Sand, flours, grains, etc. are channeled to the center of the belt to make transport easier. It provides optimum guidance without the need to resort to sides — a great way to boost precision and productivity.
Advantages:
Quick change of belt and easy cleaning
Central belt tension
Complies with CE and FDA regulations With belt scraper and scrap bin
Practical information:
200 mm to 800 mm in width
1,000 mm to 90,000 mm in length (other lengths available on request)
rotating tail pulleys with 7 mm, 14 mm or 40 mm diameter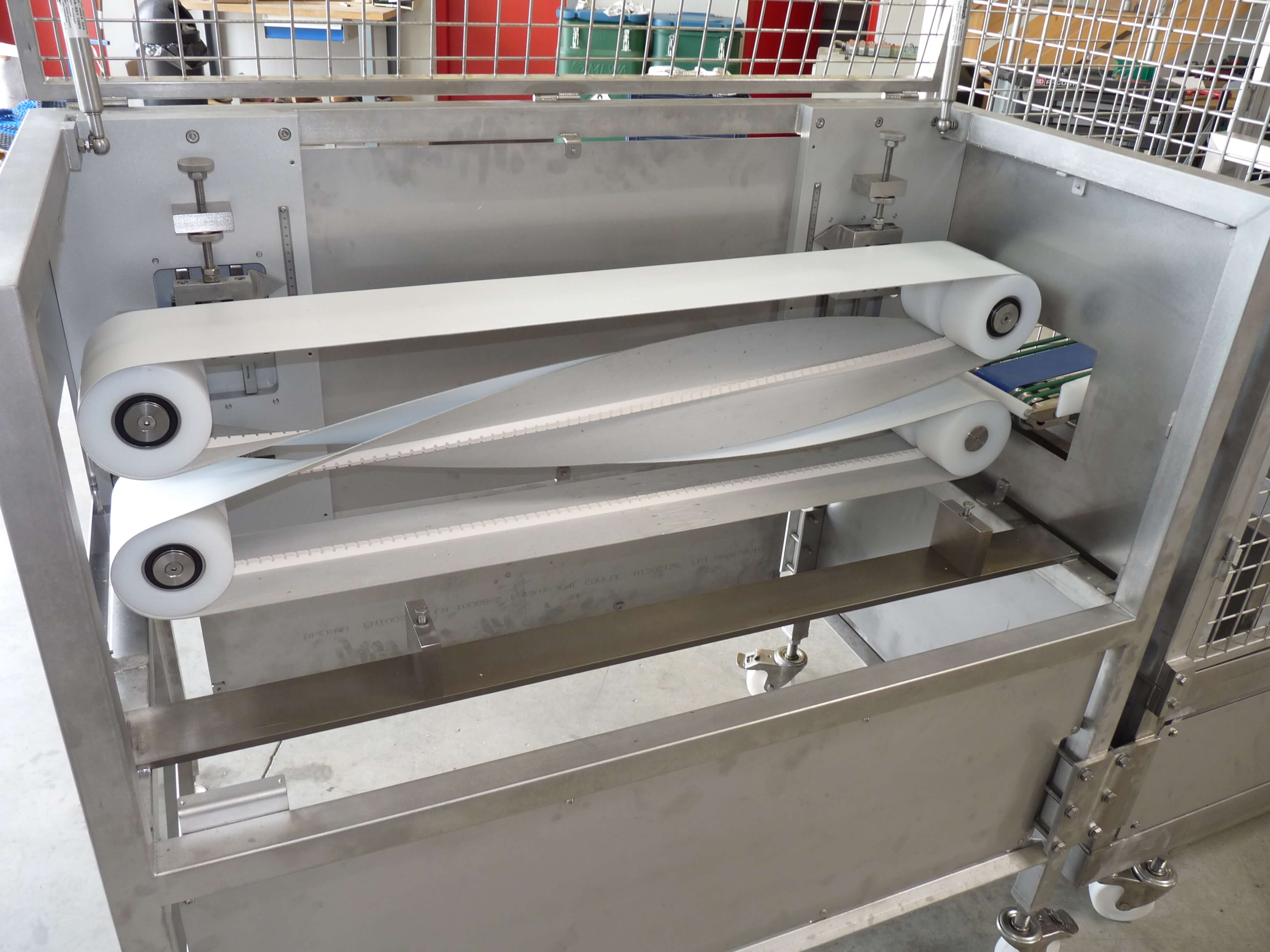 6- Turnover conveyor mainly for packaged products
These conveyors boast many advantages:
hygienic design that meets FDA and CE criteria with rapid, tool-free replacement of the belt from the front,
construction length up to 1500 mm
compatible with unwrapped products, mechanical parts, and unpackaged frozen products,
for small and medium products (cases and bags, etc.), 20 mm to 150 mm thick, widths and diameters from 20 mm to 200 mm, lengths from 20 mm to 400 mm, maximum unit weight is 1,000 g.
Practical information:
multiple applications in the food-processing, cosmetics, and pharmaceutical industries, etc.
washable 304L steel or epoxy paint finish.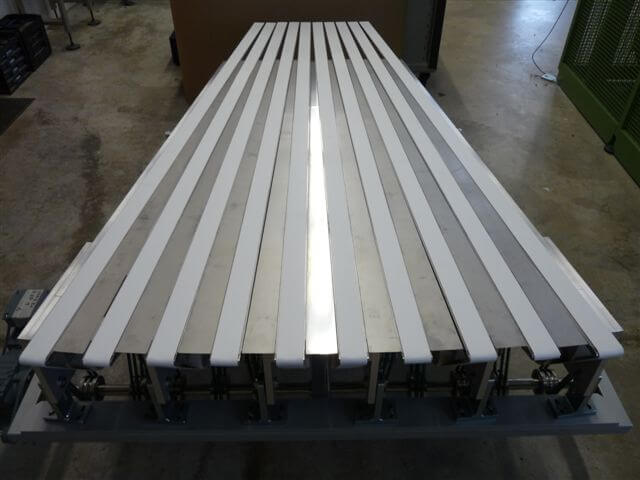 7- Diverting or converging conveyor systems
At the end of a multi-track conveyor, diverting or converging conveyor systems allow modification of the product distances in the existing production line. They are perfectly adapted for the food-processing industry—especially chocolate, cookies, and baked good—and the pharmaceutical sector.
Advantages:
quick change of the belt
disassembly by unit
belt change from side without tools
easy cleaning
Technical information:
centralized motorization, belt-driven or cardan-shaft transmission
40 mm to 200 mm in width
250 mm to 3000 mm or more in length
7/14-mm diameter rotating tail pulley